| | | |
| --- | --- | --- |
| | EXHIBITION DODIER IN THE AUDINCOURT'S COMIC STRIPS FESTIVAL | |
To realize this work supervised by François, the plastic technician, we were 4: Miki, Ronan, Denis and I. Our work consisted in the decoration of the room dedicated to the character Babette, the partner of Jérome K Jérôme Bloche's adventures. Exhibition was situated at the second floor of the library of the city of Audincourt in Doubs department in France. We worked during 2 months (150 hours) in the realization of this room of which here is a small sketch of the implanting: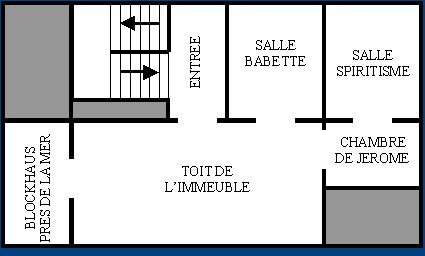 We began by drawing with pencils the outlines of drawings with a projector on the wooden panels of 2,20 m of height, painted in white. Then, we painted the various colours and to finish we drew outlines with the black painting.
Here are some photos of our realization:
THE ENTRANCE
| | |
| --- | --- |
| | Here is what everyone could see arriving upstairs. It is a true SOLEX moped |
| | I drew the caretaker lastly, 2 days before the opening of the exhibition. Fast made and made well work, I began to have some experience. |
BABETTE'S ROOM
THE ROOM OF SPIRITUALISM
On the drawing of Dodier's board, chandelier is not

completely

drawn, because a balloon hides it partially. I had to extrapolate the shape of the chandelier.